A beautiful smile is a lifelong investment that boosts self-esteem and overall well-being. But the journey to a perfect smile may seem daunting for those who struggle with crooked, crowded, or misaligned teeth. Luckily, braces offer a solution to these dental concerns. In this "guide to braces", we'll cover everything you need to know about braces in Singapore, including types, benefits, prices, and frequently asked questions.
Short Summary
Braces improve oral health, with components such as brackets, archwires and ligatures.
Types of braces are available in Singapore include metal, self-ligating ceramic and clear aligners.
The benefits of braces include improved aesthetics and speech. Prevention of dental issues and bone erosion. Plus, correction of misaligned bites for improved oral health.
What are braces?
Braces are designed to straighten teeth and correct bite issues. It applies gentle pressure on the teeth and gradually shifts them into the desired positions. Although some discomfort may be experienced initially, braces painful experiences are not typical.
To ensure the best results, follow the dietary recommendations provided by your dental clinic and abstain from certain foods, such as sticky or hard foods, that can hinder the treatment process.
Parts of Braces
Braces have three main components: the bracket, archwire, and ligature. These elements apply pressure and shift teeth into the desired position.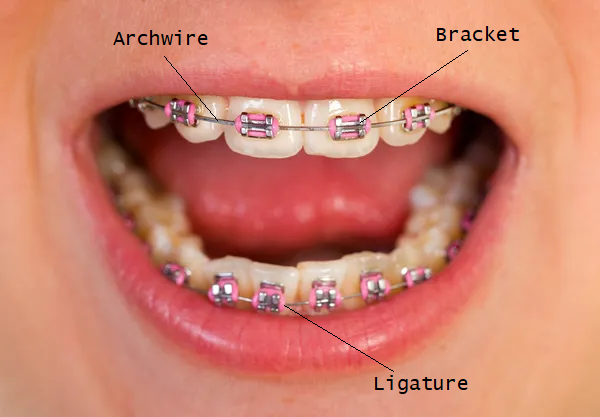 Bracket
Brackets are small ceramic or metal pieces attached to each tooth, serving as the foundation of the braces system. It can be made of metal, ceramic, and plastic. Metal brackets, made of stainless steel, are the most common type, while ceramic brackets, made of composite material, are less visible and often chosen for aesthetic reasons.
Ceramic brackets are more expensive but less likely to cause problems.
Arch Wire
The archwire is a slender wire that passes through each bracket, applying pressure and moving the teeth into the desired position. Available archwires include stainless steel, nickel-titanium, and beta-titanium, each serving to exert pressure on the brackets to move teeth.
Ligature
Ligatures are small rubber bands or wires that secure the archwire to the brackets in braces. It ensures that the braces function effectively by holding the archwire in place and facilitating the movement of teeth.
Types of braces
In Singapore, various types of braces are available to cater to different preferences and needs, including traditional metal braces, self-ligating braces, ceramic braces, lingual braces, and clear aligners. Each type offers its own set of advantages and disadvantages.
Traditional Metal Braces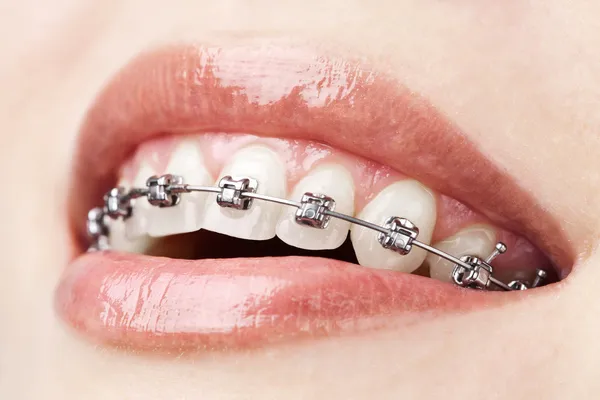 Traditional metal braces are the most prevalent and economical choice for orthodontic treatment. Made of high-quality stainless steel, they are highly proficient in rectifying misalignment.
However, these braces are also the most visible, which some individuals might find less appealing.
Self-ligating Braces (Damon Braces)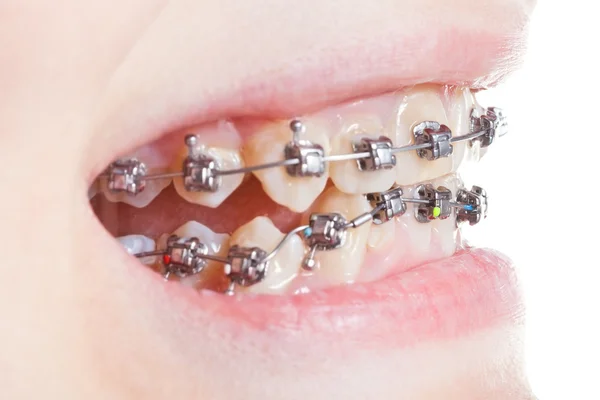 Self-ligating braces, often referred to as Damon Braces, use a sliding mechanism instead of ligatures, resulting in less friction and faster treatment. They are made of metal and are less noticeable than traditional metal braces, offering a more comfortable experience and requiring fewer adjustments.
Ceramic Braces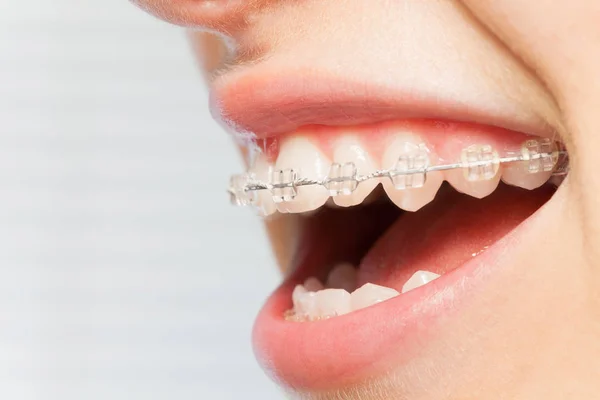 Ceramic braces, made of a transparent material, are less visible than traditional metal braces, offering a more discreet option for those prioritising aesthetics. However, they are more expensive than metal braces and are more prone to staining.
Lingual Braces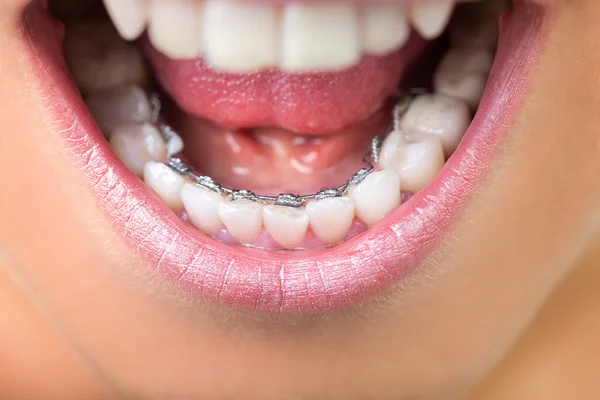 Lingual braces are placed behind the teeth. It makes them a popular option for those who prefer aesthetics in their orthodontic treatment. While lingual braces provide an aesthetic advantage, they may be more challenging to clean and maintain than other braces.
Regular brushing and using a floss threader are essential for keeping lingual braces clean and free of plaque.
Clear Aligners (Invisalign)
Clear aligners, such as Invisalign, are removable and nearly invisible, offering an aesthetically pleasing option for those who prefer a less noticeable orthodontic treatment.
However, patients with extreme teeth misalignment may not be suitable to use clear aligners for treatment, and these aligners are susceptible to staining and distortion.
What is the best age for braces?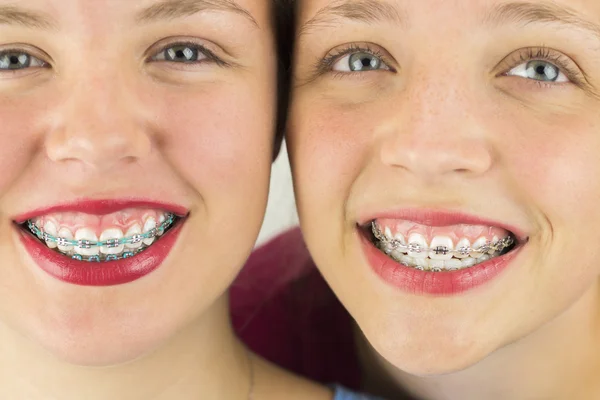 The best age for braces varies, but early teenage years are often the most effective, as treatment can take advantage of the growth and development occurring during this time.
Adults can also benefit from braces. It can rectify misaligned teeth, enhance the smile's aesthetic, and decrease the likelihood of dental issues.
What Dental Problems Do Braces Address?
Braces address overbite, underbite, spacing, overcrowding, open bite, and crossbite. In the following subsections, we will delve into these dental issues. Usually, dental braces correct misaligned teeth and jaws.
Overbite
Overbite occurs when the upper teeth excessively extend beyond the lower teeth. It can be due to genetic factors, thumb-sucking, and improper swallowing habits.
Treatment options for overbite include braces, headgear, and surgery.
Underbite
The underbite is when the lower teeth protrude beyond the upper teeth to an excessive degree. It can be attributed to genetics, thumb-sucking, or jaw misalignment.
Treatment options for an underbite may include braces, surgery, or a combination.
Spacing
Spacing is defined as the presence of gaps between the teeth. Proper spacing is essential for optimal dental hygiene and a pleasant aesthetic. Braces, clear aligners, and other dental appliances can be utilised to achieve spacing.
These treatments can correct overcrowding, close gaps, and create a more even population.
Overcrowding
Overcrowding occurs when there is insufficient space for all the teeth in the mouth. It may be attributed to genetics, thumb-sucking, or an improperly aligned jaw.
Braces, expanders, and extractions are all potential treatment options for overcrowding.
Open Bite
The open bite occurs when the lower and upper teeth don't make contact when the mouth is closed. An open bite may be attributed to various sources, such as thumb sucking, tongue thrusting, and genetics.
Treatment options for an open bite may include braces, clear aligners, and surgery.
Crossbite
A crossbite is a condition wherein the upper teeth are located within the lower teeth when the mouth is shut. Both dental and skeletal issues can cause it.
Braces or other orthodontic appliances are typically used to treat crossbites.
Benefits of braces
Braces offer numerous benefits that can significantly improve one's quality of life, including enhanced appearance, tooth decay and gum disease prevention, bone erosion, bite correction, prevention of dental injuries, and improved speech.
We will discuss the benefits more in the following subsections.
Enhance Your Appearance
People seek orthodontic treatment to enhance their appearance. Braces can straighten crooked teeth, close gaps between teeth, correct overbites and underbites, and improve facial symmetry.
By addressing these issues, braces can provide a more youthful, professional, and attractive appearance, boosting your self-esteem and confidence.
Prevents Tooth Decay And Gum Disease
Straighter teeth are easy to clean, reducing the chance of tooth decay and gum disease. Braces, correcting misaligned teeth and bite issues, help prevent plaque buildup and tooth decay.
Prevent Bone Erosion
Braces correct bite issues that cause uneven pressure on the jawbone. It ensures correct teeth and jaw alignment, reducing jawbone strain and promoting better oral health.
Can Fix Your Bite
A misaligned bite can cause discomfort, difficulty chewing, and even speech impediments. Braces correct bite issues by repositioning the teeth and jaw into the proper alignment. It can facilitate improved chewing and clearer speech.
Braces apply gentle pressure to the teeth and jaw, gradually shifting them into the desired position.
Prevent Dental Injuries
Braces reposition protruding teeth into optimal positions, decreasing the possibility of injuries during physical activities or sports.
Can Improve Your Speech
Braces can improve speech by eliminating spaces caused by incorrect tooth or jaw alignment, allowing the tongue to establish a secure connection for articulate speech.
By realigning and repositioning the teeth and jaw, braces can help improve speech clarity and precision.
What is the braces treatment process like?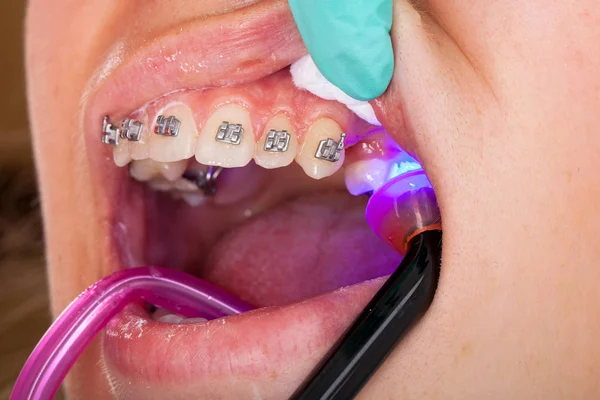 The braces treatment process consists of several stages: consultation/assessment, treatment, follow-up check-ups and adjustments, and post-braces care. Each stage is crucial for the treatment's success and for achieving the desired results.
Consultation / Assessment
During the consultation stage, the dentist assesses the patient's oral health, discusses concerns, and determines the most appropriate braces treatment. This stage establishes a personalised treatment plan that addresses the patient's unique dental needs and goals.
Treatment
The treatment involves preparing the teeth for braces, which may involve dental cleanings, extractions, or other procedures to ensure the teeth are in optimal condition for braces placement. The braces are then placed, and regular adjustments ensure the braces work effectively and efficiently.
Regular adjustments are necessary to ensure the braces work properly and the teeth move in the right direction.
Process of putting on braces
Cleaning – The teeth should be cleaned and polished before putting braces so the bracket won't fall off during treatment.
Glueing brackets – a bond material will be applied after cleaning. Then, dental cement sticks the brackets into your teeth, which will be set by blue light.
The placing of archwire – traditional metal braces use modules to hold archwires in place, which colours can be customised. For self-ligating, doors are slid over the archwires for security. Excess wires are cut and cinched to avoid hurting your cheeks.
Follow-up check-up and Adjustments
Follow-up checks and adjustments are essential for monitoring progress and ensuring the braces function optimally. The orthodontist will evaluate the patient's progress and make any necessary adjustments to the braces. It also addresses any concerns or questions the patient may have.
Post-braces Care
Post-brace care involves wearing a retainer to maintain the newly aligned tooth position and practising good oral hygiene. Retainers are custom-fitted mouthpieces that help preserve the alignment of teeth after removing braces.
Maintaining good oral hygiene is vital for dental issues prevention and long-term oral health.
Price of braces in Singapore
Braces' costs in Singapore vary depending on the braces type. Traditional braces cost $3800 onwards, ceramic braces and self-ligating braces cost $4500 onwards.
Braces Care Tips
You must take care of your braces to maximise your treatment. It includes maintaining oral hygiene, brushing, flossing and avoiding certain foods.
How to Maintain a Good Oral Hygiene When Wearing Braces
Regular dental check-ups with your dentist for guidance and treatment monitoring are the keys to caring for your braces. Your dentist will also provide effective cleaning tools and techniques for braces.
How to brush?
Use a soft-bristled toothbrush and fluoride toothpaste. Clean every surface gently but thoroughly, including around brackets and wires.
How to floss?
Flossing is essential but can be challenging with braces. Use a floss threader underneath the archwire and in between teeth. Consider a water flosser for added convenience and effectiveness.
Foods to Avoid When Wearing Braces
Avoid sticky, hard, and crunchy foods that can damage your braces and make cleaning difficult.
Summary
In conclusion, braces offer a comprehensive solution for various dental concerns, helping individuals achieve a more radiant, confident smile. With the array of braces options available in Singapore, there is a suitable choice for everyone, whether seeking traditional metal braces or more discreet alternatives. Understanding the braces treatment process and the benefits of orthodontic care will help you decide on the path to your perfect smile.
FAQ before braces treatment